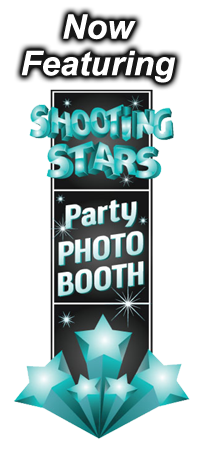 Shooting Stars Party Photo Booth
Click to View Our Photo Gallery
Traditional photo booths only allow a few adults... However, our 'Open Air' style booths provide infinite possibilites to take group photos with your friends & family. You can invite some friends for an unforgettable photo experience!
No longer are photo booths just for the younger generation... older guests can now enjoy the 'Open Air' concept by being able to take family photos. **Our 'Open Air' style photo booths are also handicap accessible.




Personalized photos are a great party favor that your guests will actually enjoy for months & years following the event! It's no question why photo booths are so popular at parties... they allow EVERYONE to kick back, relax and have fun at their own pace. It's a hands-on, interactive experience that provokes conversation and laughter almost instantly! Don't give your guests a bag of candy that likely won't get eaten anyway... Instead, give them instant memories.


CLICK TO VISIT SHOOTING STARS SITE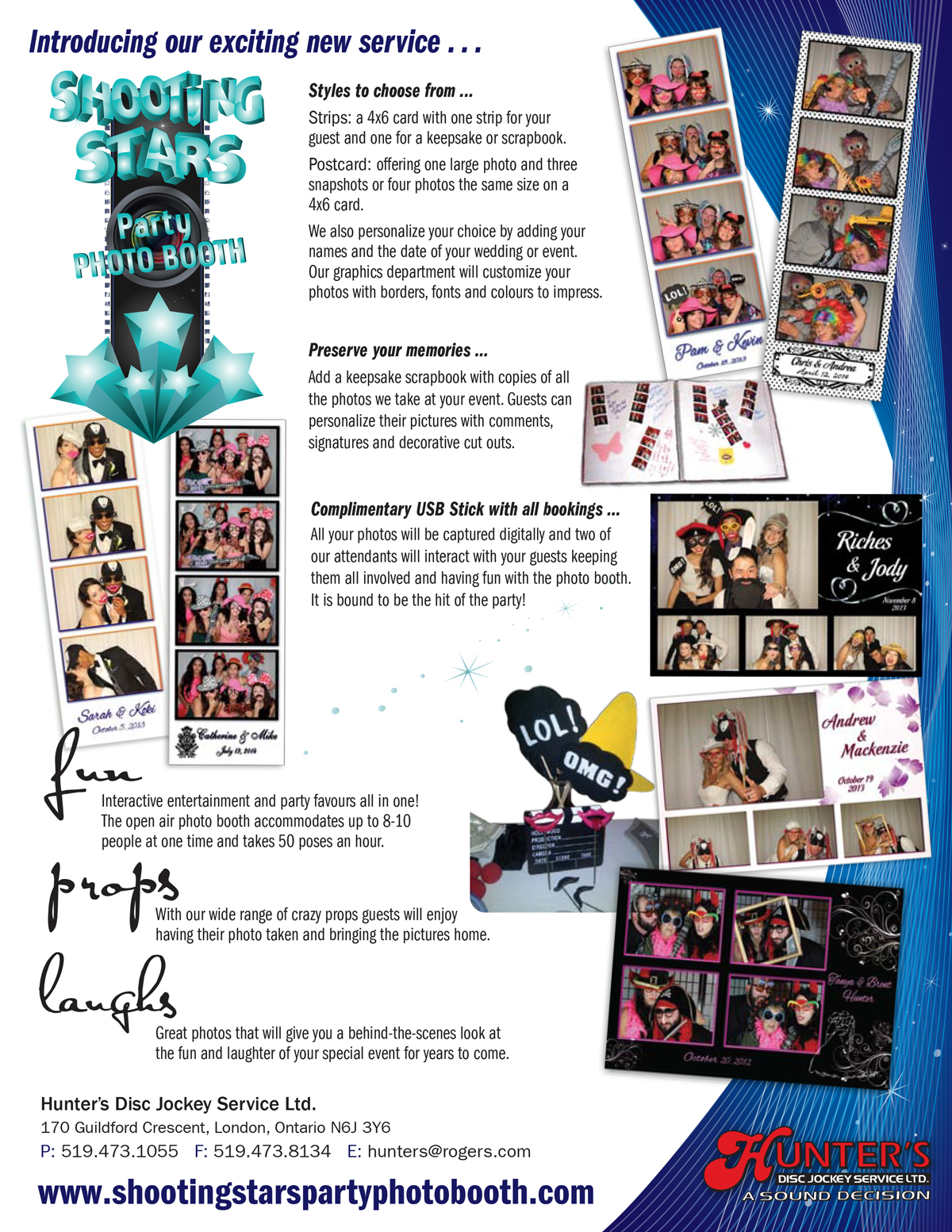 How big are the photos?


The most common size is a 4?x6? photo, which gives you two 2?x6? strips (one for the guest, and one for you). If you prefer a bigger photo, we can custom quote to your needs.


Are the photos high quality?


Yes. The combination of the computer, printer and digital camera , Shooting Stars provides the highest quality photos that are clear & vibrant with natural tones. The matte finish will last a lifetime.


Can the strips & booth be customized?


Yes. We can add your name and Wedding date, or name of the Company and date of the Event. All artwork must be approved two weeks before the event.


How long does it take to print the photo strips?


Less than 20 seconds using the latest in digital printing technology.


How much time is included with my rental?


Rental packages start at three hours for $795 for strip pictures and $895 for 3 hours of post card style photos. If four hours are needed for your event it is $100 extra. Additional time can be booked, please call for a quote regarding your specific requirements. Please keep in mind if you need an early setup (before cocktails but not to be used until after the dinner speeches) then "Idle Time" will be billed at $60 per hour.





Is there a limit to the number of photos we get? How long should the booth be rented for?


While there is no limit to the number of photos please keep in mind that the average amount of time each guest takes to setup their shots will inherently determine the number of actual photos you get. Usually this figure averages out to about 50 photos per hour. It depends how long the event is and how many are attending but on average 3 hours is adequate unless it is a large group of 350-400 then book 4 hours.


After the event, will I get a copy of the photos?


You'll receive ALL your photos on a memory stick at the end of the event. You'll have full copyright release to print/share the photos as you wish.





Are props included?


Yes, your photo booth attendant will bring a variety of fun props to use while in the booth.


How noisy is the setting up of the photo booth?


The set up is quiet and should not interrupt the festivities at your Event.


Are there limitations to set up ?


It can be set up almost anywhere indoors. We just need an electrical outlet close by. We will contact the venue ahead of time to advise them that we have been hired for your Event.





Is it wheelchair accessible?


Yes


Is the Photo Booth easy to use?


Yes. Just follow the easy instruction on the touch screen... touch the Star and smile, 4 pictures will be taken with 4 seconds between each one. Your pictures are taken and displayed with a second. Prints are available outside the booth in 20 seconds.


Will there be an attendant on site?


There will be one unless we are doing a scrapbook (mostly Weddings) then you will require two people. They will be dressed appropriately and make sure things run smoothly.




How long do I need to book ahead ?


We recommend as early as possible same as you would for booking a DJ.






What is the payment policy?


Deposit is $300. Final payment 14 days prior to the date. We accept, Visa, Mastercard, cheques and cash.




What if I need to cancel or postpone?


Deposit is held and can be used on another date with adequate booking notice.




Can we supply our own guest book?


If you have something special you want to use you certainly can. Advise us if there is a certain colour scheme or design you want to achieve.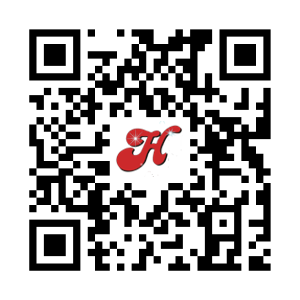 Mobile Ready
Scan our QR Codes for easy mobile & tablet access to both Hunter's Disc Jockey Services AND Shooting Stars Party Photo Booth